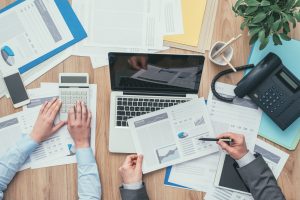 Bookkeeping Services
If you own a small business and haven't kept up your bookkeeping, don't worry.  As a Certified QuickBooks® ProAdvisor, I can help you select the bookkeeping product which is right for your business, guide you through the setup process, and assist with the day-to-day tasks associated with bookkeeping.
We can develop a bookkeeping schedule that is right for you and your business to ensure proper reconciliation and maintenance of your books.

QuickBooks
Certified QuickBooks ProAdvisors represent those professionals who demonstrate adept expertise in QuickBooks, and an ongoing commitment to excellence.
Our aim is to provide a level of service that goes far beyond financial reports. We offer a combination of accounting and software expertise, along with the personal understanding that comes from being part of the business community ourselves.
Full spectrum of payroll consulting and QuickBooks training to help your business run more efficiently
Affordable assistance with setting up QuickBooks payroll accounts
We provide integration of payroll processing into employer QuickBooks
Accounting Services
Providing financial information to our clients in a timely and accurate manner is a commitment that we feel cannot be compromised. Accurate, meaningful, well-organized financial records ensure that your business operations will run more efficiently on a daily basis.